Ever said "I sure wish I had a candy bar right now"? (or fill in the blank with whatever sweet item you are craving).
You may want to consider just what your options are BEFORE the poo-hits-the-fan and the cravings begin.
Think of it. There are things – comfort food – that just may make life a little easier should you have them in our future 'unknown' times.
Its a given (or should be) that you have your wheat, flour, sugar and beans all stocked up.
But, who's to say you can't have some goodies stocked up as well?
Now granted there may be some of those good ol favorites that you can't have. Like say, cotton candy. But then, unless you go to a circus, a fair or to Walmart … you couldn't have it anyway, right? So no loss there.
But there are some suggestions for goodies that keep for an extended period of time.
Do a little research and see what's out there.
For me, I like chocolate and I know there are others just like me out there.
So, I decided to look into if chocolate keeps and what the shelf life was on it.
And score! Looks like chocolate has a year shelf life. Yea me!!!!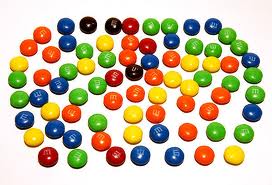 Do you enjoy M&Ms? Then buy in bulk. Find the best way to store them and vola … instant comfort food.
I decided to dig further.
For you healthy gals, apples (although not a sweet in my book), if stored in a cool, dry area can last anywhere between 3 to 6 months.
Twinkies, contrary to popular belief, do not defy all the laws of food storage (sorry zombie hunters). They have a shelf life of about a month, which is better than most, mainly because they contains no dairy products.
For you grazers (again not a sweet to me), cereal will usually keep 6-12 months.
For those craving soft chewy candies you will be pleased to know that tootsie rolls, starbursts, skittles, and laffy taffy stays good up to 6 months (and if the truth be known probably will stick in your teeth that long as well so keep your dental hygene in mind when making choices).
Gum smackers – ('warning' be prepared to be booted out of camp if your gum popping becomes annoying) - bubble gum is good for anywhere from 4 to 6 months. This also applies to regular gums such as Chiclets, Dentyne, Trident as well.
Necco Wafers, Smarties or Nerds can last a good while due to their consistency.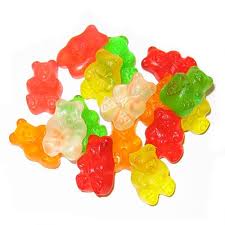 If jelly is what you are craving, gummi candy are good for up to 6 months.
Good ol' fashioned jelly beans have a shelf life of up to 8 months.
And, for you nuts out there, Jordan almonds have a shelf life up to 5 months (although freshness diminishes after 3 months).
The ol' stand by lollipops can last up to 6 months if stored in cool environments (and great to help kick a nasty nicotine habit a la Telly Savalis).
M&M's as stated previously are great for chocolate lovers and last up to 13 months if they remains in its factory sealed package and not exposed to heat.
For you not so adventerous ones, unwrapped hard tack candy will remains fresh for 5 to 6 months.
Runts, Rock Candy, Strings and Candy Blocks will last longer, again due to their consistency.
Wrapped bulk candy such as butterscotch disks, starlight mints and root beer barrels remain fresh for 5 to 6 months.
Good & Plenty, Licorice, Mexican Hats or Red Dollars will store up to 2 months.
The best news of all. Candies such as Anise Squares, Brach's Ice Blue Mints, Jolly Ranchers or Sour Balls have a much longer shelf life and are ideal for long term use.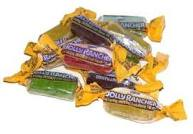 So what I would suggest is, make a list of the candies that you have stored and when the ol' sweet tooth strikes - eat the candy in order of their shelf life … this way you won't be without!
Now hand over those M&Ms.
- Survivor Jane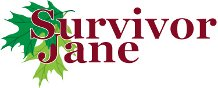 RELATED ARTICLES:
Do You Really Know What Your Are Paying For?
Food Insurance – You Can Never Have Enough Insurance
Gimme some Sugar - (Honey the Other Sugar)
Happy Burgers - (What's Really in our Food)
Hard as a rock Bread - How to Make Hardtack Survival Bread
Survival's Comfort Food
Soups On! - (Learning to Make Something Out of Nothing)
Honey I Shrunk The Pea! - (Dehydrating Food)
Your $20,000 Dehydrator (Food Preparation)
Sun Worship (Cooking with Solar Ovens)
The Missing Link … (Home Food Supply)
How much is 'A Lot'? (Food Storage)
Ahhh! My Beans are Sprouting Legs! - (Sprouts the Real Survival Food)
Do You Really Know What Your Are Paying For?
Garlic - The Survival Multi Vitamin - (Survival Herbs)
Thank you in advance for sharing Survivor Jane with your friends!
If you have any questions, or would like to see a specific article addressing survival preparedness for women; or if would like to submit an article or blog for review and possible posting on SurvivorJane.com click here
Or contact Survivor Jane at This e-mail address is being protected from spambots. You need JavaScript enabled to view it
Follow me on Twitter @SurvivorJane and use the hashtag #PrepperTalk where you will find the Largest Prepper Community on Twitter!
Survivor Jane is not intended to be expert, legal or even medical advise - just one girl sharing with others.